Become a Participating Organization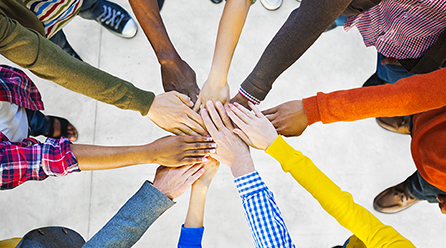 Participating Organization membership in the PCI Security Standards Council is open globally to those affiliated with the payment card industry, including merchants, banks, processors, hardware and software developers, and point-of-sale vendors.
Collaboration is at the heart of the Council's mission to help secure payment data globally. As a global forum, we bring together payments industry stakeholders to develop and drive implementation of data security standards and resources for safe payments worldwide.
The existing Participating Organization structure will remain in effect until 31 December 2022. Existing POs who are happy with their current level of participation will automatically transfer to the Associate PO level on 2 January 2023.
Download the Participating Organization Brochure
See what Participating Organizations are saying and take advantage of these benefits and opportunities
Benefits and Opportunities
Play a key role in influencing the ongoing development of PCI Security Standards and in helping ensure that these standards are implemented globally to secure payment data.
Impact the standards that impact you through the Request for Comments (RFC) process. Review and provide feedback on draft PCI Security Standards before they are published.
Nominate your company and vote for the PCI SSC Board of Advisors, which represents Participating Organizations worldwide to ensure global industry involvement in the development of PCI Security Standards.
Propose, vote for, and participate in Special Interest Groups (SIGs) that provide guidance to the industry on specific payment security challenges.
Join a global payment security network of nearly 800 companies representing more than 60 countries.
Connect, share and learn at the annual PCI Community Meetings. Receive two complimentary passes and participate in the call for speakers.
Stay informed of PCI SSC news and involvement opportunities with the PCI Monitor, the Council's exclusive weekly newsletter for Participating Organizations.
 Take advantage of PCI Training to build your knowledge and connect with PCI SSC security experts and industry colleagues. Receive substantial discounts on PCI Training and two free PCI Awareness Training sessions.
Demonstrate to your customers and business partners your commitment to payment security.
Achieve visibility with your logo / company name displayed on the PCI SSC website.
Receive an exclusive PCI SSC Participating Organization logo for use on your website and marketing collateral.
 Access the PCI SSC Participating Organization press release template to issue a formal announcement highlighting your company joining PCI SSC.
It's easy to join the PCI Security Standards Council as a Participating Organization. Simply fill out the online application.
 Once your application is received your information will be reviewed.
 Upon your acceptance as a Participating Organization, you will receive an invoice for the annual membership fee within 2-3 business days.
Once is your payment is received, all member benefits will be activated.
It's easy to join the PCI Security Standards Council as a Participating Organization. Start your application today!
| | | |
| --- | --- | --- |
| | | Fee |
| New Member Fee | | $4,100 USD |
| Annual Renewal Fee | | $4,100 USD |
| Annual Renewal (Tier 2 country*) Fee | | $2,450 USD |
| New Member (Tier 2 country*) Fee | | $2,450 USD |
All fees are in US Dollars.
* As of 1 June, 2018, organizations that are headquartered in countries classified as upper-middle-income, lower-middle-income and low-income economies by the World Bank Country and Lending Groups qualify for a reduced membership rate of $2,450 annual fee, a savings of forty percent. For full details, read press release here.
What Participating Organizations are Saying
When developing SmartCheckout, PCI DSS certification was a mandatory requirement. But it ended up being more important than just the product. The maturity level we reached in the process of becoming compliant helped in defining us as a company. Today as a global digital commerce solution, joining PCI Security Standards Council as a Participant Organization presents us with a great opportunity to contribute to the improvement of the standards in parallel with the many great companies who are also part of the program.
Andre Uchoa, Chief Security Officer and Enterprise Architect, VTEX
Being part of PCI Council facilitates regular exchange of information, greater insights into the upcoming standards and a platform to discuss and deliberate effective controls for card data protection. We look forward to deriving benefits from industry collaboration and actively contributing towards improving data security.
Sameer Ratolikar, Chief Information Security Officer, HDFC Bank
A Participating Organization gains information, access, and feedback that creates knowledge necessary to protect our business.
Rodney Farmer, Board Member, EPSM
Rights and Responsibilities
Participating Organization Rights, Obligations and Rules of Participation can be found here.