PCI SSC Work From Home Security Awareness Training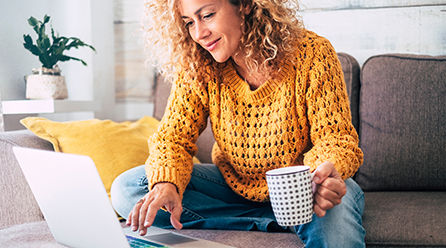 The PCI SSC Working from Home Security Awareness Training course outlines many of the threats and challenges of handling and securing payment account data within home offices and remote working environments. This training also reinforces how following a PCI DSS compliant organization's information security policies and requirements can help ensure that payment account data remains safe.
Benefits:
Understand how to better secure your home office environments.
Build your knowledge of security requirements and best practices for remote working environments.
Understand potential cyber threats and attacks common to home and remote networks.
This course helps to improve security, reduce the risk of data loss, and simplify understanding and adherence to PCI DSS requirements:
High-level overview of the PCI SSC, and basics around the PCI DSS, including key terms, payment account data and its handling requirements.
Potential security impacts and considerations around home office environments, as well as different types of job roles and functions and how they could impact the security of payment account data.
Common home office equipment security best practices and requirements to mitigate threats to sensitive payment account data.
Types of phishing and ransomware attacks and how to better identify, report and avoid them.
Guidance around the "dos and don'ts" of remote working.
Understanding Information Security Policies and their intended purpose.
Helpful resources and additional guidance provided through the PCI SSC for securing home office and remote working environments.
Upon completion of the course, you (or your staff) will be able to:
Understand security responsibilities and best practices.
Understand how to better identify payment account data and other sensitive data and apply specific handling requirements to keep data secure.
Better identify common phishing and ransomware attacks and what steps to take to avoid unauthorized sharing or disclosure of sensitive data.
Better understand information security policies and why they are important to maintaining a secure cardholder data environment.
Access additional guidance on work from home security requirements and best practices.
Have tools and additional insight to secure your organization's payment account data.
Support your organization's compliance efforts through your knowledge of how to apply security requirements and best practices to your home office environments.
Authoritative course content is delivered as:
Self-paced, short computer-based training (CBT) course.
Learn from your home or office.
Reduced travel costs and time away from work.
You will earn one (1) Continuing Professional Education (CPE) hours for the CBT   course.
Once the PCI SSC has received payment for your registration, you will have three months (90 days) to complete the eLearning course.
There is no exam or qualification required as part of this course.
Learn about threats facing remote-based working environments and gain tangible, real-world insights on security requirements and best practices.
| | | |
| --- | --- | --- |
| Employees Registered | | Price Per Person |
| 1 - 99 | | $35 USD |
| 100+ | | $25 USD |
| 500+ | | Please contact training@pcisecuritystandards.org to inquire about corporate licensing |
Please note: Unless otherwise specified, all fees are in US Dollars. Payment is required prior to beginning the course. Course conducted in English.
There are no registration prerequisite requirements. There is no exam or certification associated with this course.
To help you prepare for the course, we encourage you to review two publications from the Document Library on the PCI Council website:
PCI Glossary
PCI Data Security Standard