Payment Card Industry (PCI) Acquirer Training is for acquirers and processors who wish to have a deeper understanding of the PCI DSS in order to better assist their merchant clients in their security and compliance efforts.
Benefits:
Gain confidence and understanding on completing merchant assessment reports
Apply PCI DSS security principles to your clients' specific situations
Earn continuing education credits
The eight training modules cover all of the relevant information about PCI DSS and related programs. Starting with a basic introduction to the rationale of the standards, the course then delves into key definitions and the knowledge needed to understand the PCI DSS requirements. The roles and responsibilities specific to acquirers, the acquirer checklist and acquirer feedback are outlined in detail. Brand compliance programs are reviewed, including information on merchant levels, reporting requirements, and where different questions should be directed.
This course is delivered via eLearning from your home or office. At the end of the course you'll receive a letter of completion, acknowledging the tools you, as an acquirer, have gained to help your merchants build a more secure payments environment.
Areas covered by the course include:
Introduction to PCI DSS
Working with payment card data
Compliance roles and responsibilities
Payment brand compliance programs
PCI DSS requirements
PCI DSS assessment process (RoCs, SAQs, AoCs)
Business-as-Usual and Supporting Documents
Acquirer case studies
Upon completing PCI Acquirer Training, you'll:
Be able to work confidently with merchants on their journey toward PCI DSS compliance
Receive a certificate of completion indicating that you have completed the course
Have a solid foundation to proceed to other PCI qualification courses, if you choose
This course is available in the following formats:
eLearning, available 24/7
Hosted one-day Corporate Group Training class held at your chosen location.
You work with merchants fielding questions about their PCI DSS program, or if you are responsible for determining whether to accept a Report on Compliance (ROC) or Self-Assessment Questionnaire (SAQ) from a merchant. PCI Acquirer Training is geared specifically to acquirers who don't perform assessments themselves, but need to understand the compliance process for their merchant clients. Any acquirer can benefit – no previous PCI knowledge is required.
| | | |
| --- | --- | --- |
| Course | | Price |
| PCI Acquirer Training (eLearning only)  Non-PO | | $1,800 USD |
| PCI Acquirer Training (eLearning only)  PO | | $1,200 USD |
Please note: Unless otherwise specified, all fees are in US Dollars.
Payment is required prior to beginning the course. Course conducted in English.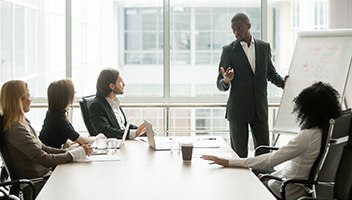 If you have a group to train, please consider our Corporate Group Training instructor-led option, where an expert PCI instructor comes to your facility (or any location you choose) to deliver the course. We offer volume discounts – the more you train, the more you save!
Course and Exam Information
This course is available in the following formats:
eLearning, available 24/7
Hosted one-day Corporate Group Training class held at your chosen location.
The eLearning course offers:
Flexible scheduling 24/7/365
Learn from your home or office
Reduced travel costs and time away from work
Provides individuals in any country an opportunity to train for and take the exam at their convenience and at a location close to home or work.
6 Continuing Professional Education (CPE) hours
This six-hour eLearning training is for individuals who want a self-paced course or those who don't have a need for a more hands-on, face-to-face learning experience.
Once the PCI SSC has received payment for your registration, you will have three months (90 days) to complete the eLearning course.
There are no registration prerequisite requirements. There is no exam or certification associated with this course.
To help you prepare for the course, we encourage you to review two publications from the Document Library on the PCI Council website:
PCI Glossary
PCI Data Security Standard
You're just a few simple steps away from building your knowledge of PCI DSS to help your merchants in their PCI compliance efforts.